How to drill bamboo for making crafts?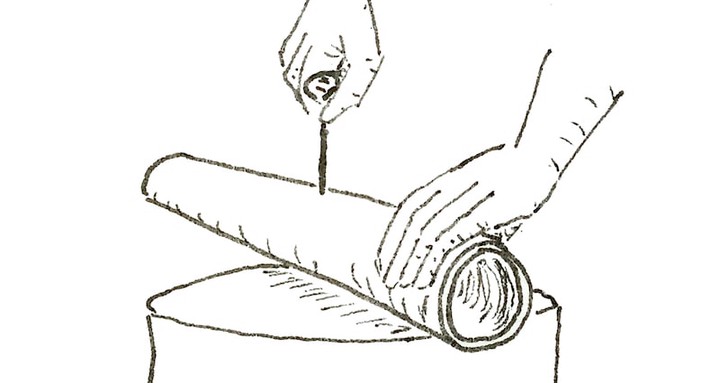 Which kind of tool can I use to drill bamboo? How to mark and immobilize the bamboo? How to use carving tools to drill a hole?
Here is a short tutorial based on a video review of 9 highly skilled bamboo craftsmen from around the world.
This tutorial is part of my bamboo craft project where I share tutorials, prototypes and resources for designing and building bamboo objects with simple tools.
Video review (4 min 30 sec)
Wear gloves for safety!

It is always a good idea to wear gloves if you are a beginner, at least one glove for the more vulnerable hand which is holding the bamboo.
Which tool can I use to drill bamboo?
Craftsmen use a lot of different tools to drill bamboo, depending on what they want to do.
For some crafts, such as fishing rods, craftsmen can use very long drill rods to bore thin bamboo shafts lengthwise (see video).
Sometimes, we need to drill larger holes, for instance for inserting one bamboo into another. There are two main approaches.
This technique can be a bit intimidating for beginners, but for experts, making a hole using carving tools can be as quick as using an electric tool!
How to mark and immobilize the bamboo?
Before drilling, you can locate where you want your hole to be. For instance, you can mark precisely the center of your hole by punching. Or, with a pencil, you can draw the shape of the hole you want to make.
To drill safely, and precisely, you need to immobilize the bamboo between one hand and a wood support.
Craftsmen often use the feet for a better grip, especially when carving because the two hands are busy with the chisel and the mallet!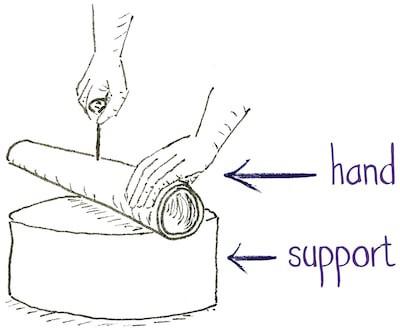 And for long bamboo poles, it can be much easier to be two people so that one can hold the pieces while the other one is drilling.
How to use a carving tool to drill a hole?
For carving bamboo, you need a mallet and a wood carving tool, such as a chisel (straight cutting edge) and/or a gouge (curved cutting edge).
A gouge can allow you to make rounded holes, and craftsmen tend to use only a gouge, including to make straight cuts, as the bamboo fibers will anyway separate in a straight line when you hit the pole lengthwise with a blade (see video).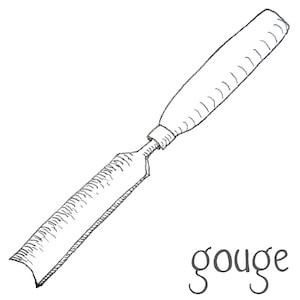 After drawing the shape of the hole and finding a stable position, craftsmen invariably carve their holes in this way: they start by notching the bamboo pole widthwise

, that is, perpendicular to the fibers.
When they have cut on two opposite edges, they notch lengthwise

with their carving tool, between the two previous notches. This latter shock will separate the bamboo fibers and the bamboo piece is bound to detach easily.
Finally, you can open the hole even more if necessary, still using your carving tool, and smoothen the edges of the hole using the same carving tool, a small knife, and/or sandpaper.

Be careful when using carving tools, because they can slide. Ideally, you make sure that no part of your body is in the direction where you push the blade of your tool. Like this, even if you lose control of the chisel, you cannot injure yourself. This is a little bit more difficult to achieve if you use your feet, as so many parts of your body will surround the bamboo…
But unless you want to look like an expert, you don't necessarily need to be barefoot!
References used in the video