How to design and build bamboo furniture with simple tools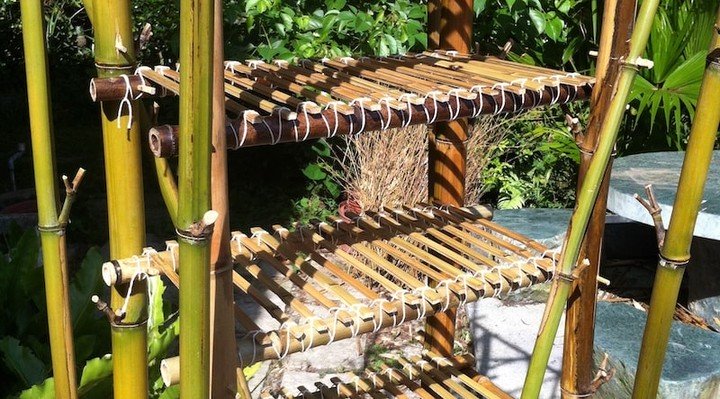 Hsiao-Hang and I like very much the fine Japanese bamboo crafts and the minimalism and modulability of Japanese furniture and architecture. So, in the spring of 2018, when I saw that bamboo was growing naturally in the land and the forest surrounding our new house in Taiwan, I was very excited by the idea of harvesting bamboo poles to build our own furniture!
What we love about bamboo are its amazing qualities as a building material. It is very strong while easy to work on, even for woodworking beginners using relatively simple tools. It can grow very quickly, even on poor soils or steep lands, which makes for a wonderful renewable material. And — maybe the most surprising — it grows virtually everywhere, from the tropics to cold mountains under temperatures dropping as low as -30°C (86°F)!
This latter asset encouraged me to share my researches and designs, as I know that they could interest and benefit so many people around the planet!
Two key directions of my experiments with bamboo are minimalism and modulability.
Minimalism in terms of style, but also in the number of different types of material used, and in the building process itself: using simple manual tools, minimizing the building steps.

Modulability in the sense of making multifunctional objects. By combining different functions in one piece of furniture, or by designing an object composed of independent parts, each of which can be used for other purposes. Minimalism and modulability being, eventually, mimicking nature's efficiency and elegance.
But despite these main directions, you will also find here furniture in which I combined bamboo with other material, building processes that call for an electrical tool, or monofunctional objects. After all, what I like the most is just experimenting!
So, if you are also a bamboo lover, and if you also want to create your custom renewable and modulable crafts and furniture using simple tools, then keep reading! I gathered some information for you, from designing to building.
Table of content
Project's map: all posts
Objectives of the project
Making our own crafts and furniture, adapted to our needs and modulable.
Using natural material, local and renewable.
Using techniques and tools as simple as possible so that everyone can virtually apply my design to make their own crafts.
Method and timeline
In 2018 and 2019, as we were living in the mountains in Northern Taiwan, I naturally started some explorations and experiments on bamboo harvesting and crafting. Among other experimentations, I measured the length and thickness of bamboo internodes.
In parallel with my first experiments, I got a lot of inspiration from amazing bamboo creations that people share online. If you haven't yet explored what already exists, I handpicked in the resources section below 6 beautiful and inspiring videos. Observing what people do is a good way to get started in the bamboo craft journey!
Now we live in France and I don't have an easy access to bamboo, so I don't do a lot of bamboo experiments.
In the future, I may share new designs and techniques. One potential research direction that I might like to explore is the combination of bamboo and mycelium for building small objects and crafts. But this is still at the idea level!
You can subscribe to my newsletter to stay informed.
Results so far
A selection of simple techniques and tools
I selected a set of simple techniques and tools, necessary and sufficient for beginners to build almost any bamboo object and furniture, with a simple and elegant style.
These techniques are: sawing, splitting, drilling, sanding and shaving, and joining. You can implement all of them using manual tools only.
I have started working on these 4 posts (splitting, drilling, sanding, joining). But to focus on the most useful work, I am now waiting for your feedback! Would you be happy to read about these topics? Or one of them in particular? Let me know in the comments below.
My tutorials of bamboo crafts and furniture
Inspired by craftsmen and craftswomen from around the world, I started to design and build bamboo crafts for our own use. Here I share 4 examples of my designs. Ideas are not lacking, so I am likely to update this list with more creations in the future!
Overall, manual tools are sufficient to make these designs, but sometimes an electric driller can make things much easier. Most of the time, they call for bamboo as the sole building material, but at times, I also use strings or small metal pieces. And if my preferred joining method is bamboo dowels, strings are more adapted in some cases.
I sorted these 4 examples by increasing difficulty, although they are all suitable for bamboo and woodworking beginners.
More ideas at the stage of prototype
Among the many bamboo craft ideas that I have every week, only very few of them eventually exist! Most of them remain ideas, and a few reach the stage of prototypes.
Here are some open-source prototypes that I am happy to share, in case you would find them inspiring, fun, or if you would like to improve them and make them yours!
As for my other bamboo crafts, the leading idea here was to develop a simple design, closely adapted to our needs, and to enjoy the specificities offered by bamboo.
Hence, I used the natural flexibility of bamboo poles to create a beautiful spontaneous arc shape under the weight of the light bulb.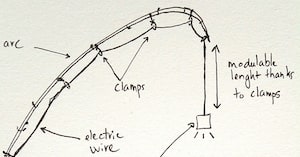 The main idea here was to enjoy the fact that bamboo is already a tube with various diameters, ideal for creating a telescopic structure easily foldable and transportable.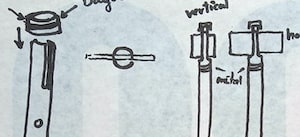 When we moved from the forest to Taipei, a huge city, we started to wonder how we could still grow things in our 18 m2 apartment.
As soon as I saw that our bathroom had such a large window, with so much sunlight entering, I could not resist designing this bamboo window farm!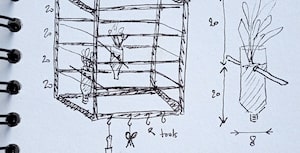 Resources
Here are some of the most informative and inspiring videos I found online.
Five countries, a lot of creativity, high skills, and beautiful gestures. From small objects to huge houses: