How to choose the right fermentation container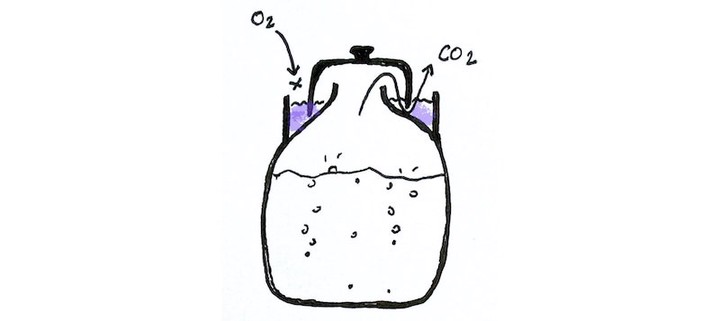 Which container should you use to make your fermentations? I present a variety of containers and how to choose the one you need for your specific fermentation project.
Fermenting food is letting specific micro-organisms transform your food into a tastier, healthier, and better-preserved food. To achieve a good fermentation, you need to select these specific micro-organisms.
But how to select them?
To select them, you just need to put the food that you want to ferment in the conditions that are ideal for the development of these micro-organisms. These conditions are mainly salt concentration, oxygen availability, and temperature. But they can also include other parameters such as moisture, light, acidity, etc.
If you want to favor the growth of lactic acid bacterias, for instance, then you will like to put your food in a place where there is enough salt, and no oxygen. If you want, instead, to favor the growth of fungi, then you will prefer conditions with low salt concentration, and access to oxygen. But if you want to favor a kind of fungi, say mushrooms, over another kind like yeasts, then you will want to make sure that the temperature is not too high.
That is why choosing the right container is one of the most critical aspects of the success of your fermentation projects. Because it is mainly the design of the container which will determine the fermentation conditions and hence the type of micro-organisms making the transformation.
Let's begin with the example of lacto-fermentation.
Lacto-fermentations
In general, the best conditions to start lacto-fermentations are a brine of 2.25% of salt and no access to oxygen. To limit access to oxygen, you need to find a container that you can close tightly.
One challenging aspect, though, is that micro-organisms will produce carbon dioxide at the beginning of the lacto-fermentation. This means that your container needs to be able to prevent oxygen from entering while allowing carbon dioxide to be expelled or accumulated without breaking your container.
So, how to do this?
Would you like other examples of containers?
Here I presented a few examples of containers for lactic-fermentation. But there are other options more adapted to other kinds of fermentation, such as when making tempeh, or when growing mushrooms.
If you would like me to show more examples, please let me know in the comments!