How to build a large bamboo shelf with simple tools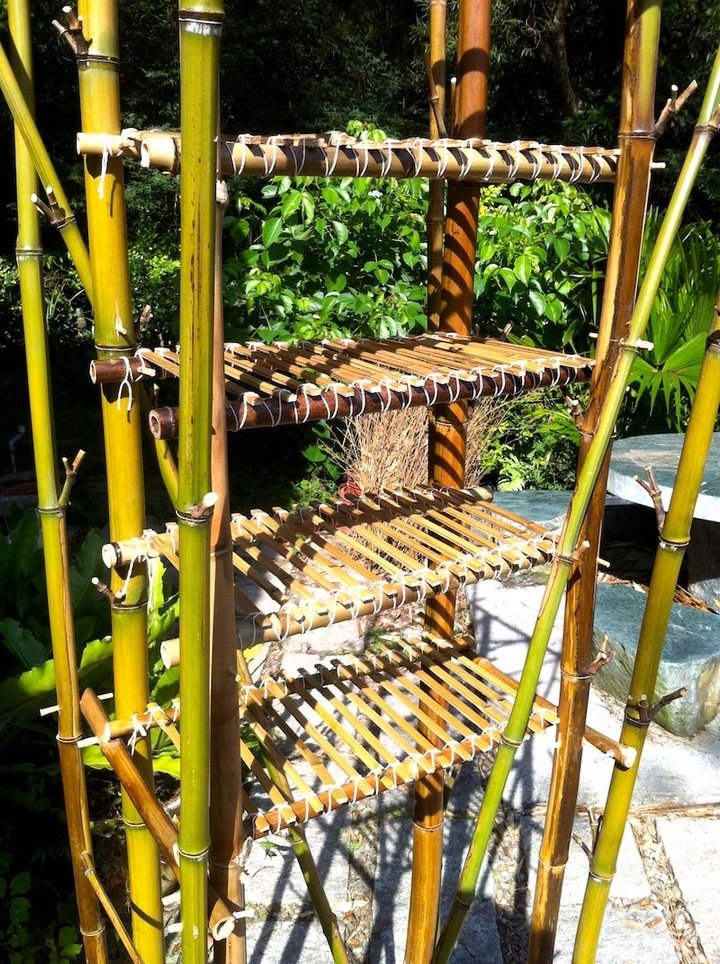 I designed and built this large bamboo furniture to serve as our main shelf for underwear, clothes, linen, and many other small objects when we lived in a small house in the forest, South West of Taipei city. Despite its size, it is quite light and can be carried by one person with only a few little muscles.
Except for strings for the trays, it can be done entirely with bamboo, including joints made with bamboo dowels. One needs some time to design and make a big piece of furniture like this, but once it is done, it can really serve well in the long term!
As surprising as it may sound, this shelf does not require other building techniques than what you need for the bamboo trivet: sawing, splitting, drilling, joining! Here the difficulty comes from the complexity of the structure, the size of the bamboo pieces to manipulate, and the building time.
As well as for our other bamboo crafts, you can make it entirely with manual tools. However, unless you really want to take your time, the high number of holes to drill for joining pieces may convince you to use an electric driller — which is what I did!
Level: difficult (in terms of complexity and patience, but not in terms of skills)
Building time: 2-3 days (plus about 2 days if you design your own)
Size: base: 30 × 50 cm (12 × 20 in), top tray at 200 cm high (78 in): 50 × 50 cm (20 × 20 in), total height including the highest poles: 250 cm (98 in)
This post is part of my bamboo craft project. If you are looking for easier crafts, check out the tutorials for the bamboo trivet, the underwear dryer, or the smartphone speaker.
Table of content
Material and tools needed
Building material
several long bamboo poles of 2 to 4 cm in diameter (0.8 to 1.6 in) for the structure
a wider bamboo pole of about 6-7 cm in diameter (2.4-2.8 in) and 150 cm long (60 in) for the dowels and the trays
a string for the trays
You can use fresh or dry bamboo. In this case, I used fresh bamboo. If you also use fresh bamboo, you may have to face some small challenges later, depending on your climate (see section Sustainability: after 2 years below).
Tools
saw
matchet or knife
tape measure and pencil
electrical or manual driller
wood support to immobilize your bamboo when working on it
safety gloves
Wear gloves for safety!

It is always a good idea to wear gloves if you are a beginner, at least one glove for the more vulnerable hand that is holding the bamboo when you use a tool.
Decide on the size of the shelf
I adapted the size of our shelf to the height of our ceilling, the area available and our needs.
Overall, it is 250 cm high (98 in), for a base of 30 × 50 cm (12 × 20 in).
You can, of course, adjust the size depending on your needs and constraints. In this case, note that you may also have to adjust different features of the structure, such as cross-bracing, to ensure strength and stability to your shelf.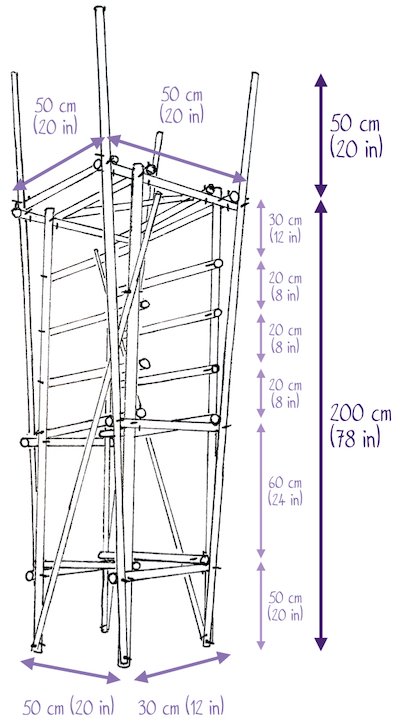 Saw the 22 pieces for the structure
For the whole shelf, you will need to prepare 22 poles for the main structure:
4 oblique pillars They are the longest poles on the shelf, and they contribute to maintaining the top tray, acting as cross-bracing, and providing a bamboo bush-like style! It does not matter if they are curved. This can even enhance the bushy look.
2 long cross-bracing poles It is fine if they are not straight, or irregular.
4 pillars For these, it is better if they are straight and a bit wider, as they will be the ones supporting the weight of the structure and the trays will be easier to make horizontal if the pillars are straight poles.
2 small cross-bracing poles They will strenghten the structure at the level of the bottom and top trays.
16 poles of about 2 cm in diameter (0.8 in) for the horizontal structure and for supporting the trays.
2 poless of 40 cm (16 in) and 2 poless of 30 cm (12 in) for the horizontal structure.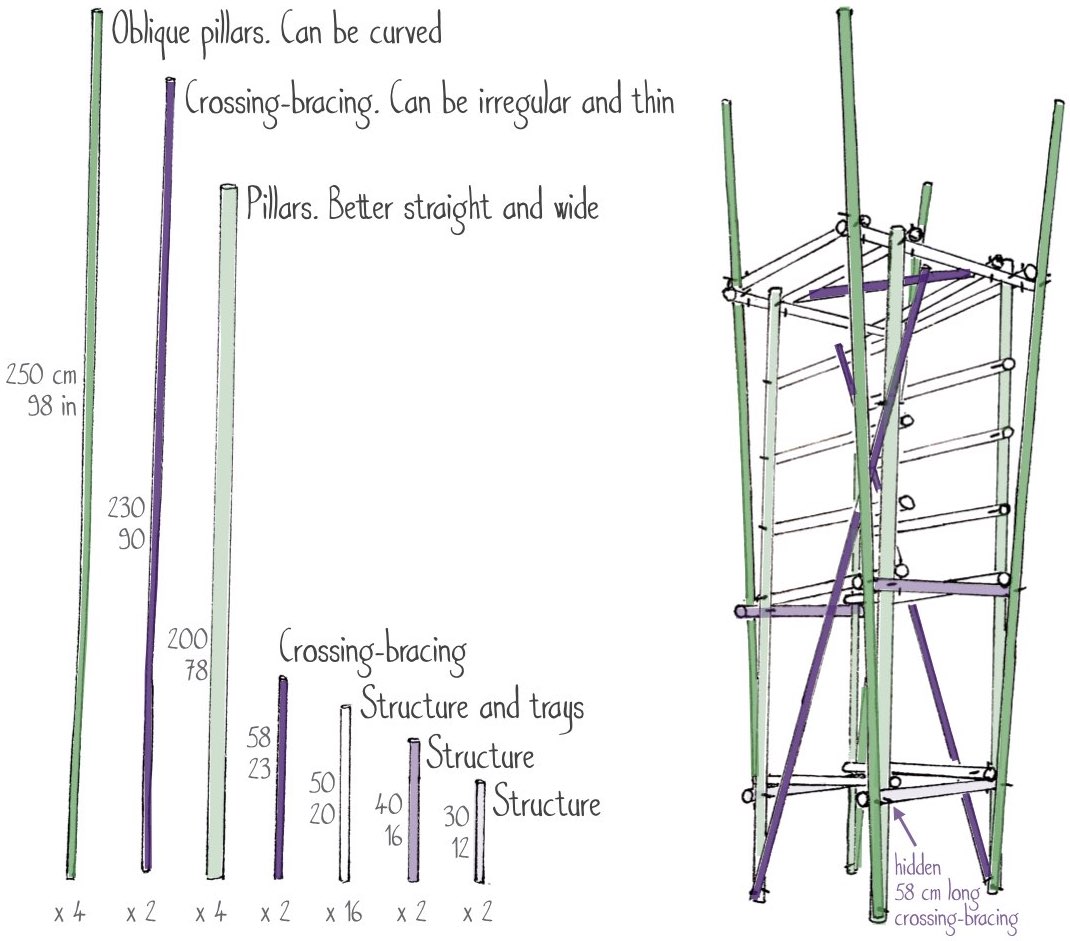 It is always a good idea to saw additional poles in case you realize that some have weak points or if one split in the process of drilling or inserting a dowel. See how experts saw bamboo.
You don't need to remove the branch bases for the vertical poles, as they can be used to hang objects on the shelf. I left a lot of branch bases and they were very useful, while enhancing the bush-like style that we were looking for.
This is an elegant lesson from craft and bamboo: instead of removing the branch bases and adding later some metal hooks, why not use what is already naturally here and thus save time?
As you can see, an interesting aspect of building with bamboo is observing the natural diversity of shapes to find the best bamboo pole for our needs. Sometimes straight poles are ideal, but curved poles are better for other uses. Sometimes we need to remove the whole branches, but keeping the bases can be very useful in some cases. Also, it is often possible to cut short straight portions from a long irregular pole.
Split 64 slats for the trays
The shelf contains 6 trays.
The bottom and top trays
were designed to hold big objects, such as a clarinet box on the bottom one and linen and towels on the top one.
Hence, for these trays, we just needed simple platforms made from a few bamboo poles separated by wide gaps to let the air circulate, exactly as on this sketch.

The intermediate 4 trays
were designed to hold small clothes, such as underwear, socks, etc. For these trays, we needed platforms that let the air flow while supporting efficiently small objects. I hence chose to make trays from slats of about 1 cm wide (0.4 in) attached together by strings and separated by narrow gaps of about 1.5 cm (0.6 in).
With about 16 slats per trays, this makes 64 slats!
To obtain these slats, you will need to split 3 bamboo cylinders of 30 cm long (12 in) and 6-7 cm in diameter (2.4-2.8 in).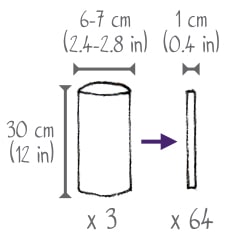 In order to obtain flat and relatively even tray platforms, we need one last step to correct the edges of the slats that we want to be closer to 90° angles. The easiest way is to split and/or shave the edges using your matchet or knife.
You don't really need to obtain very flat and identical slats such as the one in the picture. This would take quite a long time for 64 long slats. You can simply go as far as you wish in correcting and shaving to reach the finish that you like.
Split 60-70 sticks for dowels
Except for the slats of the trays, which are joined with strings, all other joints of the shelf are made using bamboo dowels. You will need to prepare about 60-70 dowels. If you feel overwhelmed or bored, you can, of course, make the dowels on the go when you need them during the next steps!
Dowels of 5 to 7 cm long (2 to 2.8 in) should be fine. This means that you will first need to prepare bamboo cylinders of this length, in which you can split small sticks.
The dowels can be split in a node-free bamboo cylinder, or in a cylinder that includes a node on one side. Both are fine, but the ones made from a cylinder with a node have one thicker end, like the head of a nail, which may increase the strengh of the joint.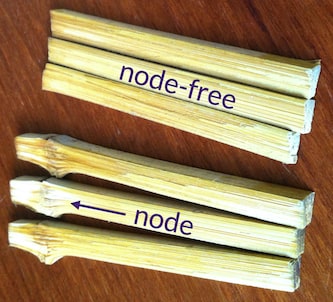 Drill and join the pieces together
Once you have all the elemental parts of this big puzzle, the easiest way to work is probably to build individual units first and then to join them.
For instance, I started by building part
and part
independently.
Then,
I joined the two parts using the horizontal poles.
Finally,
I added the cross-bracing poles to strenghten the structure.

Usually, I do not drill all the holes in advance. I rather drill two pieces, adjust a dowel with a matchet, and join the pieces with the dowel. Iteratively, one joint after the other. This dynamic way of building allows for a few adjustments on the go, as all the bamboo pieces will be different and never perfectly straight or cylindrical. Similarly, adding the bracing bars at the end helps rectify the potential problems due to the bamboo itself or due to imperfections in the assembling work.
It is fine if the whole structure remains somehow flexible. It is the nature of bamboo! However, if the shelf really feels unstable after joining all the pieces, you may have to replace some weak dowels, to adjust the length of a pilar, or to tune the cross-bracing system. In particular, if you modify the size or even the shape of this shelf, it is quite likely that you may need to adapt the position or the number of cross-bracing poles.
Finally, you can either trim the surplus of the dowels, as I did for the bamboo trivet, or keep them. In this case, I kept them, to left the opportunity to remove the dowels more easily in case we wanted to adjust something later, and to create even more ways of hanging and attaching objects to our bush-shelf! This also gives a more rustic style to the furniture, as we liked.
Attach the trays using the string
The last step is to install the slats to create the 4 intermediate plateforms.
You can attach the slats by simply turning a string around the slats and the horizontal support. In order to have enough string, you can prepare 8 strings about 4 times longer than the tray itself, that is, about 120 cm (47 in). But try one first, as this length may depend on several factors, including the diameter of your horizontal bamboo pole!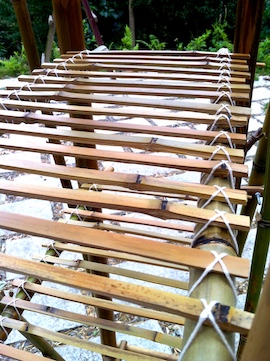 And that's it, you did it!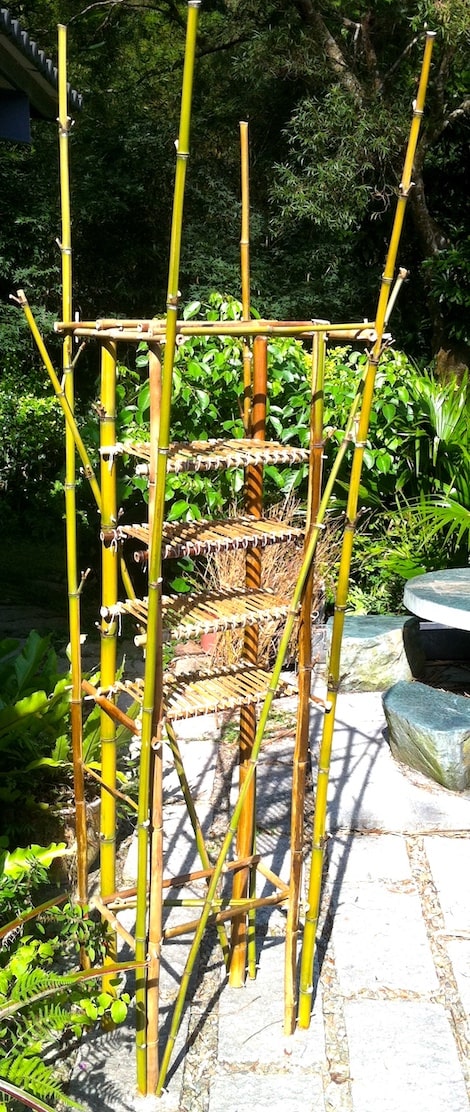 Sustainability: after 2 years
Compared to the clear shiny green color on the pictures, the bamboo skin slowly turned dark and mat.
Disclaimer
I am doing my best to share clear, useful, and quality research. However, I disclaim any liability regarding the way the content that I share may be interpreted or used, and regarding the consequences of its use.