Making a smartphone tripod in bamboo. A prototype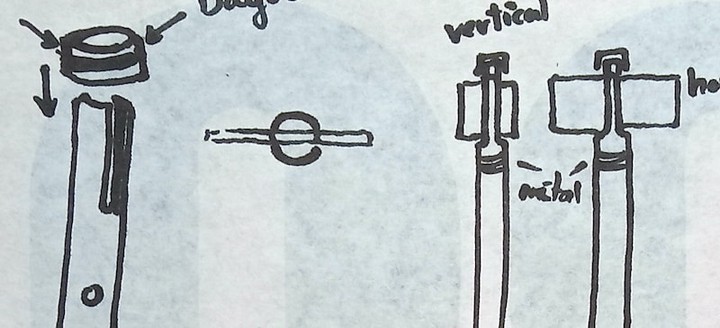 Here is a prototype of a telescopic bamboo smartphone tripod. I designed this selfie stick to record myself when making bamboo craft!
The main idea was to enjoy the fact that bamboo is already a tube with various diameters, ideal for creating a telescopic structure easily foldable and transportable.
I haven't passed the prototype step because I eventually did not need it as much as I thought, and because of some technical challenges that I did not have time to tackle.
Will you find a way to improve this design and make it yours?
This post is part of my bamboo craft project, where you can find other bamboo craft ideas and tutorials.
Table of content
Rough sketch
The idea was to combine 3 or 4 bamboo tubes of about 30 cm each (12 in) to create an extendable tube.
At the bottom, 3 removable bamboo dowels, or pods, would stabilize the structure. In the middle, the tubes would be maintained with each other by small bamboo dowels. At the top, a notch in the final tube would hold the smartphone.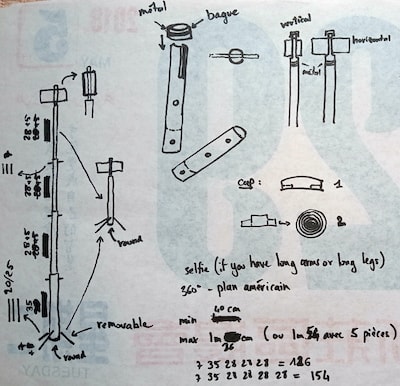 When folded, everything would fit in the lower tube, including the 3 pods and the bamboo dowels. This lower tube would thus become the container of our smartphone tripod and would be sealed with a cap on its top edge.
Prototype
As you can see on the picture, the small bamboo dowels cross the tubes to maintain the tripod extended, and a bamboo ring inserted on the top puts pressure on the smartphone so that it does not slide and fall.
On this prototype, however, the length of the tubes is shorter than 30 cm (12 in).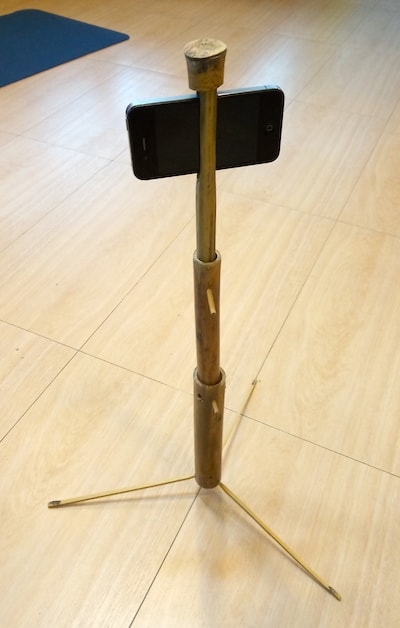 Limits and improvement tracks
I successfully used this prototype to take some pictures, and the phone was quite stable. I liked the rustic feel of the bamboo balancing the high-tech look of the phone. However, there are three main limits to the design.
First, the removable pods are not very stable and could not adapt to an uneven or sloping ground. How to improve the pods so that they could still be removable, or even foldable, while allowing to maintain the stick vertically? I found online an idea from Bangladesh that demonstrates a simple yet efficient way to join bamboo pods, although they are not foldable.
Second, the phone can only take pictures of what is in front of it. But how to make it possible to take pictures from other angles, such as a picture of something lower or higher? Another inspiration may come from this online project from India that reproduces a fully-functional tripod, although using glue, bolts, and nuts that I like to avoid.
Third, it needs a little bit of time to unfold and stabilize the tripod before you can take a picture! However, this should be acceptable if you like to take your time and if, even more than taking pictures, you like to show others how amazing things you can build!
Do you want to adapt this design?
Like all my designs, this one is under an open license, meaning that you are free to adapt it, as long as you give credit to my work by mentioning "Elegant Experiments" with a link to www.elegantexperiments.net

Creative Commons Attribution
CC-BY
Will you find elegant solutions to address these design limits and develop your own version? I would be very interested to see the result!
Disclaimer
I am doing my best to share clear, useful, and quality research. However, I disclaim any liability regarding the way the content that I share may be interpreted or used, and regarding the consequences of its use.