Our 6 m2 tiny house weighs 1 ton and costs 3000 euros of building materials
 ˬ  ˯vᐯ˅ˇ⌣ᘁ᥎ᨆ⏝ࡍ⩗ᨆ⌣˘ˬ᥎ᐯᨆ⌣ᘁ⩗ᨆࡍ˯
This post is from Mésange, my weekly 'popup' newsletter, from October 2022 to March 2023. Next >
As you may know, with Hsiao, we wanted to build a tiny house on wheels.
So, I started. I made drawings, models, I visited material shops, I bought tools, I built a wood workshop with my father. Then, to experiment with a few innovative features, I began building a prototype and my friend Lucile came to help me.
One year after the first sketches, though, if there is indeed the prototype of a tiny house directly on the ground in the garden of my parents (the one on the picture above), there is no tiny house on a trailer yet. It seems our plans have evolved over the last year, and we decided to pause our project of a tiny house on wheels. One day, we may launch it again.
For now, we keep working on this prototype, for us to continue learning about building a tiny house and exploring simple living in a tiny space.
From the status of a prototype, this small wooden cabin hence moves to the status of a tiny house lab.
And it's got a name. It is called Paññā House, but you can just call it Paññā (pronounce 'pania'). Paññā means wisdom in Pali, the language of the Buddha.
So, I am very excited to present you Paññā!
In Paññā, we can already feel private, sleep on the mezzanine, and work — right now, I am writing you from my desk, with the greenery just behind the window! It is 6 m2 of surface area, it weighs 1 ton, and its building materials cost about 3000 euros.
The surface area of our tiny house: 6 m2
Tiny? Yes, it is: about 6 m2 of surface area.
It takes 2.5 x 2.5 m on the ground and is 3.4 m high. The inner surface area is ~5 m2 though, due to the thickness of the walls. If we add the mezzanine, we reach about ~7 m2 of useful surface area. If we account for the flat roof, it adds about ~6 m2 usable as a terrace.
What I like with such a small surface area is the very little territory that we borrow from nature. We automatically spend much more time outside, our deep links with nature awaken. And, without basements, as soon as we leave, the grass can grow again, and no traces remain.
Of course, a very small surface area also means less cleaning work, more autonomy when it comes to repairing the house, and fewer building materials, that is, a smaller environmental footprint, and a lighter and cheaper home.
Hereafter, I describe the weight and cost of our tiny house. The calculations correspond to the empty 'ready-to-furnish' tiny house; airtight, watertight, and insulated. This includes all the components shown in the 3 sketches below.
Inner structures and furniture are not included in the calculations, nor the trailer that would be necessary for a movable house.
The weight of our tiny house: ~1 ton
This home weighs 1 ton, roughly the weight of a car.
Is this heavy or light? Well, it depends.
For a non-movable tiny house, being heavy is not really a problem. Some visitors were even worried that, in case of extreme wind, 1 ton might be too light, and we may fly away! If this can reassure you, I haven't felt any movement when I was sleeping on the mezzanine the other day, even during a strong wind storm. But, one interest in using light material and modules, even for a fixed tiny house, is that the building process is much more pleasant.
For a movable house, 1 ton might be too heavy, though. If we think that my initial plan was a tiny house 3 times bigger on a 7 m long trailer, we would reach about 3 tons, qnd the trailer weighs 0.5 tons. We would indeed stay below the maximum weight allowed on such a trailer, that is, 3.5 tons. But then, what about all the furniture and our stuff?
So, what if we want to make such a house even lighter?
We could of course try to reduce further its size. Or, we could try to save weight on the most important posts.
Douglas fir wood is the most important post, accounting for ~55% of the total weight. I bought raw douglas fir battens from a nearby sawmill, to make the wood frame and the wood cladding of the house. Douglas fir is a great building material here because it is local, cheap, and fairly durable even when used outdoors without chemical treatments. Its only caveat is its density of ~560 kg/m3, which is indeed higher than some other wood species.
To save weight on this tiny house, the most efficient strategy could hence be to switch to another type of wood. Red cedar, ~410 kg/m3, is often used as a wood cladding on French tiny houses, but it comes from Canada. Autoclaved poplar, ~460 kg/m3, is another light option for wood cladding. Both options would probably make this house less environmental-friendly, though. And definitely more expensive, as the cost per m2 for red cedar claps or autoclaved poplar claps is 7-8 fold the cost of the raw douglas fir battens I bought!
Now, let's have a look, then, at the material cost to build this micro-house.
The cost of our tiny house: ~3000 euros
This house costs just 3000 euros of materials and transport, that is, much less than a new car.
Is this awesome? Yes, it is!
This cost includes fuel for transport because all the materials need to be brought to the construction site at some point. Either delivered or brought by myself with a car and a trailer.
It is very motivating to see that, even in the context of the recent price increase of building materials, it is still possible to build a beautiful cheap micro-house. Even without compromising too much on the ecological part: 99% of the weight corresponds to bio-sourced (wood, vegetal fibers…) or geo-sourced materials (glass, iron, zinc…), and only 1% corresponds to synthetic materials.
And this cost even includes such a luxurious feature as an openable roof above the bed, a sliding roof!
Half of the 3000 euros comes from three elements of similar amounts: the douglas fir battens, the 100 mm thick cellulose insulation panels, and the 5 mm poplar plywood panels used for the inner walls. Each element costs ~400-500 euros.
It is important to remember all the hidden costs, though. To build such a tiny house, we need to buy tools, have access to a dry space to safely store material, and ideally have access to a protected space for the construction. We may find these things for free, or we may have to rent or buy them.
Of course, there is also the work time for learning, designing, buying material, constructing, doubting, deconstructing, and reconstructing. Building tiny does not mean building fast, it actually seems to be the opposite. This reminds me of a sentence from Leonardo da Vinci: "simplicity is the ultimate sophistication".
If you are interested in building a tiny home, your work time will mainly depend on your level of experience in building, and whether you build a copy of another house or a novel design.
But, still, for such a small cost of building materials, I already want to build another tiny Paññā!
Ah, but, did I say that I want to experiment with simple living in a tiny home? Not two or three tiny homes? Okay, so, let's rather stick to finishing the inner furniture in Paññā first.
Next steps
What's next to be done?
It is not a joke, I really want to try to insert a full house in this small volume! So, over the next months, I want to work on including a kitchen, a bathroom, and even a 'living room'.
On the outside, I also planned potential improvements on the South face. There is an area left to introduce a large bay window, the wall structure is ready to welcome a solar oven, and the South-East corner is designed to integrate a solar ventilation system (to be invented).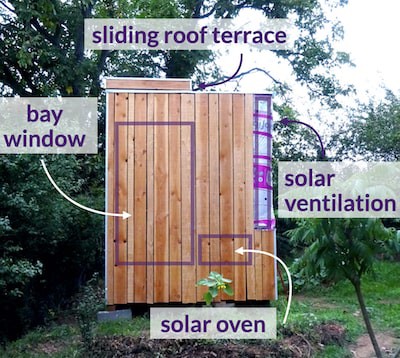 So, let's get to work!